Thank you to TNVC for providing this press release!
—-
[Houston, Texas, May 25th, 2018 ]  Two companies stood out from the competition and each earned $30,000 investment prizes from GOOSE Society at last week's Texas A&M New Ventures Competition (TNVC) in College Station.   Each of these companies will also be invited the pitch to the exclusive group of super-angel investors, which comes with an opportunity to get much more funding.  GOOSE judges included Louis Raspino (finals judge), David Klein, and Samantha Lewis.
Houston–based Arovia, creators of the Spontaneous Pop-Up Display (SPUD), was awarded a GOOSE Society investment prize, as well as $50,000 as the overall winner of the 2018 TNVC.
Arovia Co-Founder, President and CEO Alexander Wesley, a Rice Business Alum, said he was excited to win the competition because he doesn't consider pitching competitions to be his specialty.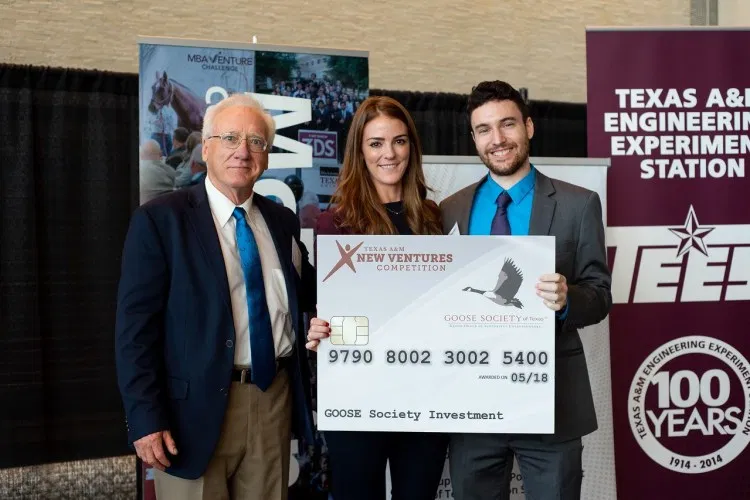 "I'm definitely not a natural pitcher, but I love our product, I love our team and the state of Texas has been really great for us as well," Wesley said. "I definitely don't view myself as being a stellar pitch man so I had no expectation at all, but I'm glad the enthusiasm I have for our product and our team and what we're doing for our customers comes through."
The second company awarded an investment prize by GOOSE was Houston-based and TMC Biodesign Alum, M&S Biotics, which is developing an autonomous internet of things solution to detect, track,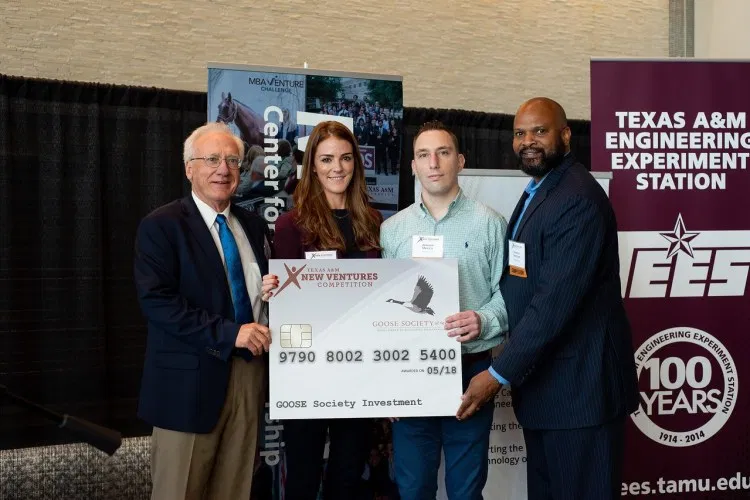 count and locate surgical items within the operating room in real-time. They hope to effectively automate the surgical counting process while providing downstream analytics regarding instrument utilization by leveraging machine learning. M&S Biotics also earned $25,000 by finishing third overall in the competition.
Samantha Lewis, Director of the GOOSE Society said she was impressed with the company's accepted into the competition and appreciates the diligence TNVC provides beforehand.  "The two teams we chose were able to field the tough questions that were asked of them and clearly communicate their value proposition and traction.  We also liked the Houston ties, of course!"
Both companies will also have the opportunity to pitch at the next GOOSE Society investment  meeting, which can present an even bigger opportunity.
Samantha commented on what a great experience "the geese" had in College Station and is excited about growing the relationship between TNVC and the GOOSE Society.  "GOOSE cares about the Texas ecosystem and TNVC is just another way we can do our part to boost entrepreneurship in the state and help startup companies."